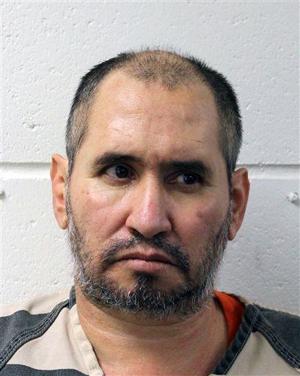 VISALIA, Calif. (AP) — A man who says he was a cartel enforcer and initially confessed to authorities while jailed in Lawrence County, Alabama, has pleaded guilty to nine counts of murder in California.
Jose Manuel Martinez, 53, entered the pleas today and will be sentenced next month to life in prison without the possibility of parole under a plea deal.
He also pleaded guilty to one count of attempted murder of a 17-year-old.
After being arrested in 2013, Martinez opened up to investigators about his violent career.
Authorities say he acknowledged killings across the U.S. and refuses to name his cartel associates.
Authorities say they believe Martinez because he gave details that nobody else knows.
The case in California involves the killing of people in Tulare, Kern and Santa Barbara counties between 1980 and 2011. The victims ranged in age from 22 to 56, authorities say.
In Lawrence County, Martinez pleaded guilty and accepted a 50-year prison sentence in June 2014 for shooting a man to death for making derogatory remarks about Martinez's daughter.
In 1980, Martinez shot a man who was driving to work with three others in the vehicle, investigators say. Martinez is accused of shooting another man in bed early one morning in 2000 while the man's four children were home.
Martinez had lived at times in Richgrove, a small farming community in central California about 40 miles north of Bakersfield. Martinez, a U.S. resident, was arrested in June 2013 while crossing the border from Mexico into Yuma, Arizona, and was transferred to Alabama.
Authorities first took Martinez to answer charges in Moulton, where they say he began to talk.
"After he confessed to it, it was just like opening up the floodgate," Tim McWhorter, of the Lawrence County Sheriff's Office, said at the time.
Martinez also awaits two murder charges in Florida.
In the Lawrence County case, Martinez acknowledged he confessed to investigators that he killed Decatur roofing contractor Jose Arturo Ruiz near the Speake community March 4, 2013. According to the statement read aloud in Lawrence County Circuit Court, Martinez said he shot Ruiz, who he knew as J.R., twice in the head for making derogatory remarks about Martinez's daughter.
Ruiz was a married father of three and owner of J.R. Roofing in Decatur.
Wire Staff